Yellowstone Thomas Rainwater star pays tribute to 1923 'ancestor'!
Yellowstone star Gil Birmingham celebrated his 70th birthday this week with some familiar faces. 
Although the actor has been on screens since 1986, he has gained a plethora of new fans for his portrayal of Chief Thomas Rainwater. 
As many await the release of Yellowstone season five, part two, the star reunited with his co-star and fellow franchise star the week of his milestone birthday. 
Birmingham took to Instagram with a photo of himself posing beside Yellowstone's 1923 star Helen Mirren and Teonna Rainwater's Aminah Nieves.
As they grinned for the snap, the actor captioned the post: "Great time catching up with Helen and Aminah (my ancestor?)."
READ MORE: Yellowstone suffers another blow as they miss out AGAIN on Emmy nominations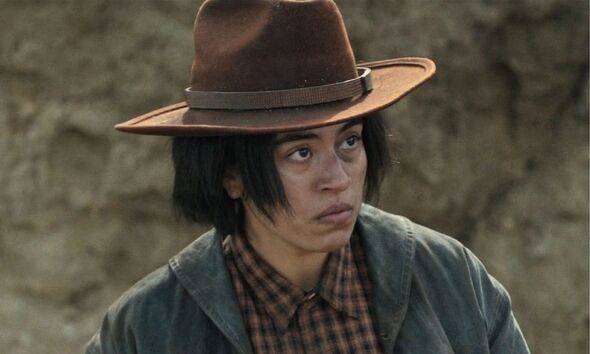 1923: Teonna could be Thomas Rainwater's grandmother (Image: Paramount Network)
Birmingham threw a subtle jibe at his character's unknown relation to Teonna, who Thomas also shares a last name with.
As well as exploring the complicated dynamics of the ranching Duttons, the Yellowstone prequel 1923 also delves into the brutal experiences of the indigenous people living on the plains. 
While the show exposes the shocking violence they were treated within the same time period, viewers were introduced to Teonna Rainwater. 
Although it's yet to be confirmed, many fans have speculated she could be Thomas' grandmother, given Teonna's age in 1923 and his age in Yellowstone.
Part of Teonna's suffering came from her forced participation at the Catholic school for Indigenous children. 
They were placed in boarding schools miles away from their families and were not allowed to wear their own clothes, speak their own language, or even use their own names.
Many were beaten, abused, and underfed, this was the case for Teonna who ran away but not before killing the nun, Sister Mary (Jennifer Ehle), who had long abused her. 
Although season two has yet to be released it's likely she will find enough freedom to potentially fall in love and give birth to Thomas' father or mother.
Teonna's brave actions could see her become an inspiring figure in the Rainwater household and Yellowstone's Broken Rock Reservation. 
Inspiring the present generation of Rainwaters, including Thomas who has been embroiled in a long fight for their community.
Throughout Yellowstone, John Dutton (Kevin Costner) and his family have had to fight off continued threats from businessmen, land developers, and the Broken Rock Indian Reservation led by the chief.
Thomas has plans to expand the reservation and has the desire to reclaim the ranch which he believes was originally Indigenous land.